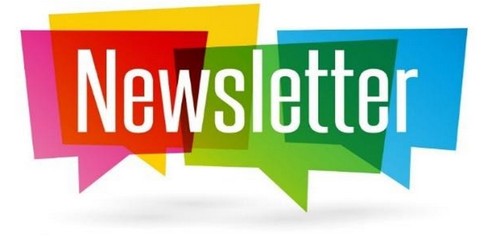 A warm and heartfelt greeting to all of our TCA families!  Your wellness is so important to us. Our teachers and administration team want to thank you for your hard work and support during this most unique year of virtual online learning, assisting our students with their lessons and assignments. It was not always easy and we respect your commitment to your children learning the Chinese language and culture.
Please take the time to carefully read this newsletter.  You will see information listed below regarding:
Student Report Cards
Our TCA Graduation Ceremonies
Awards, Certificates and Scholarships
Summer Camp/School
Phase 2 Early Bird Registration
2021-2022 School Year Commencement
Student Report Cards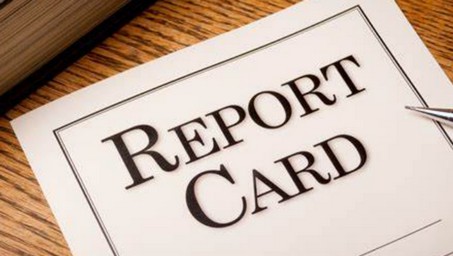 The Chinese Academy is emailing the year-end report cards to all families this year. Your child's 2020-2021 report card is attached to this parent newsletter.
Note: Please appreciate as we are a very large school that it will take us several days to send out all report cards to our students. Please email us if you have not received your child(ren)'s report card by June 21st.
If you have any questions, please feel free to email us or contact us at: 403-777-7663.
Our TCA Graduation Ceremonies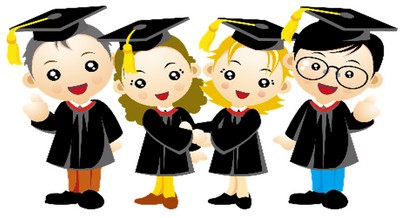 The Chinese Academy 24th Annual Graduation Ceremonies were online for the first time ever. The feedback from our parents, guests and students was very positive. Thank you to everyone who took the time to attend these special events, celebrating a very important milestone for your children. Your presence helped to make Saturday, June 5th a special day. We appreciated all the enthusiasm demonstrated from our virtual audience.
For all students and parents who wish to view the celebrations, our school will be uploading the following items onto the TCA website over the next week. Please click here to view the page.
Principal's Message
Full Virtual Graduation Recordings
Grade 12, Grade 6 and Kindergarten 2 Valedictorians Speeches
Congratulatory Video from The Honourable Michelle Rempel Garner, P.C. M.P.
Congratulatory Letters from our Special Guests
Award List for All Classes
Graduation Preshow Videos
Sponsors and Donors
Students' Performances and Classwork Demonstrations in full
Awards, Certificates and Scholarships
The Chinese Academy is pleased to be continuing our Awards and Scholarships Program.  This is only possible through the generous donations of our school sponsors. We want to celebrate the exceptional work and accomplishments of our students.
Our school will be posting the full list of award recipients for the 2020-2021 school year onto our website by the end of June. Congratulations to all our students who have received awards! The certificates for these awards can be picked up at the office in late August/early September.
Grade 12 IB Chinese Scholarships: We also offer a TCA IB Chinese Scholarship to our grade 12 IB graduates. These students can apply for this scholarship upon receiving their IB Chinese report card from the International Baccalaureate Organization (IBO) in July. For more information, please refer to our IB Q&A: Click Here.
Kindergarten 2 Returning Scholarships: For our Kindergarten 2 graduates, The Chinese Academy is offering a $50 scholarship to these graduates upon registration into a grade 1 Chinese course in the 2021-2022 school year. To register as a returning grade 1 student, please click here.
Summer Camp/School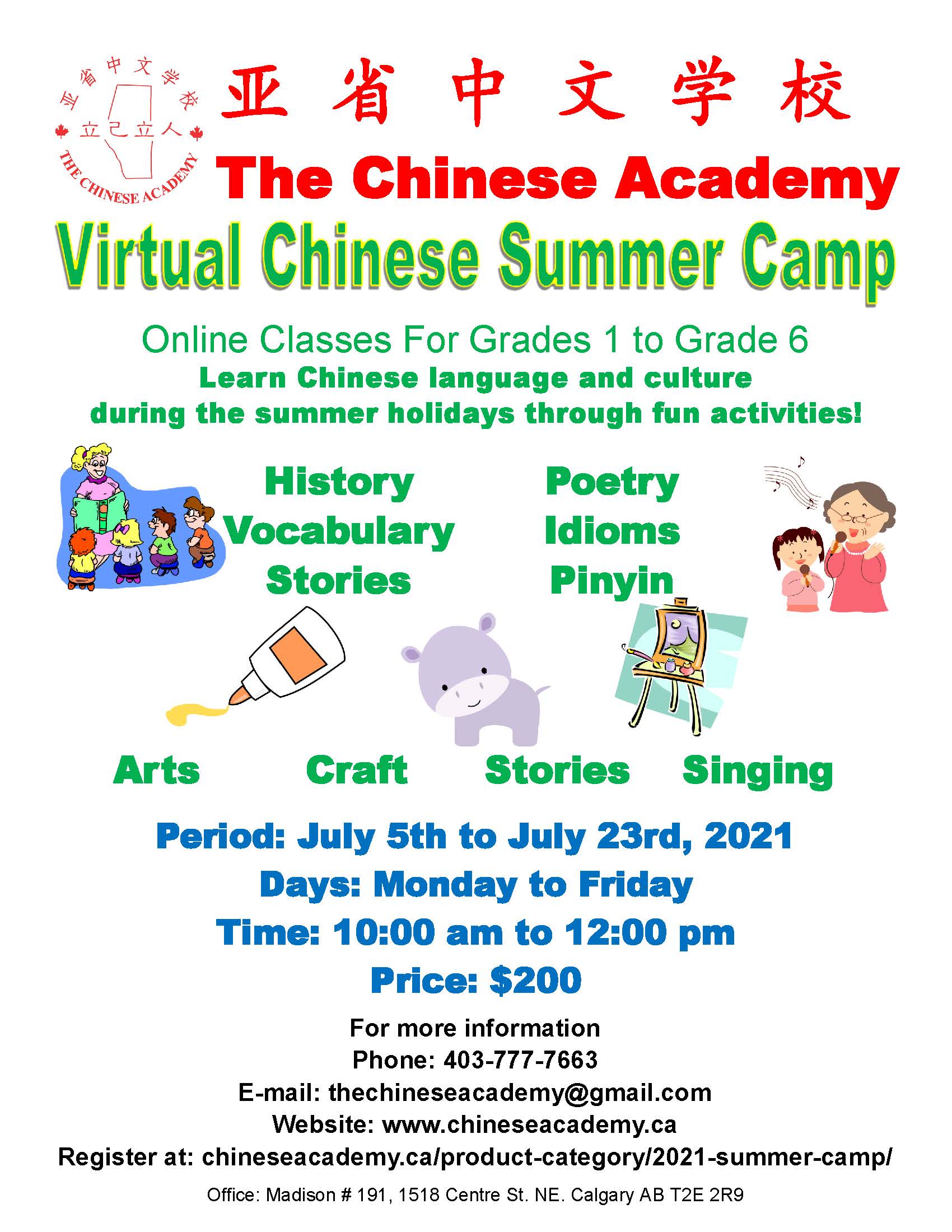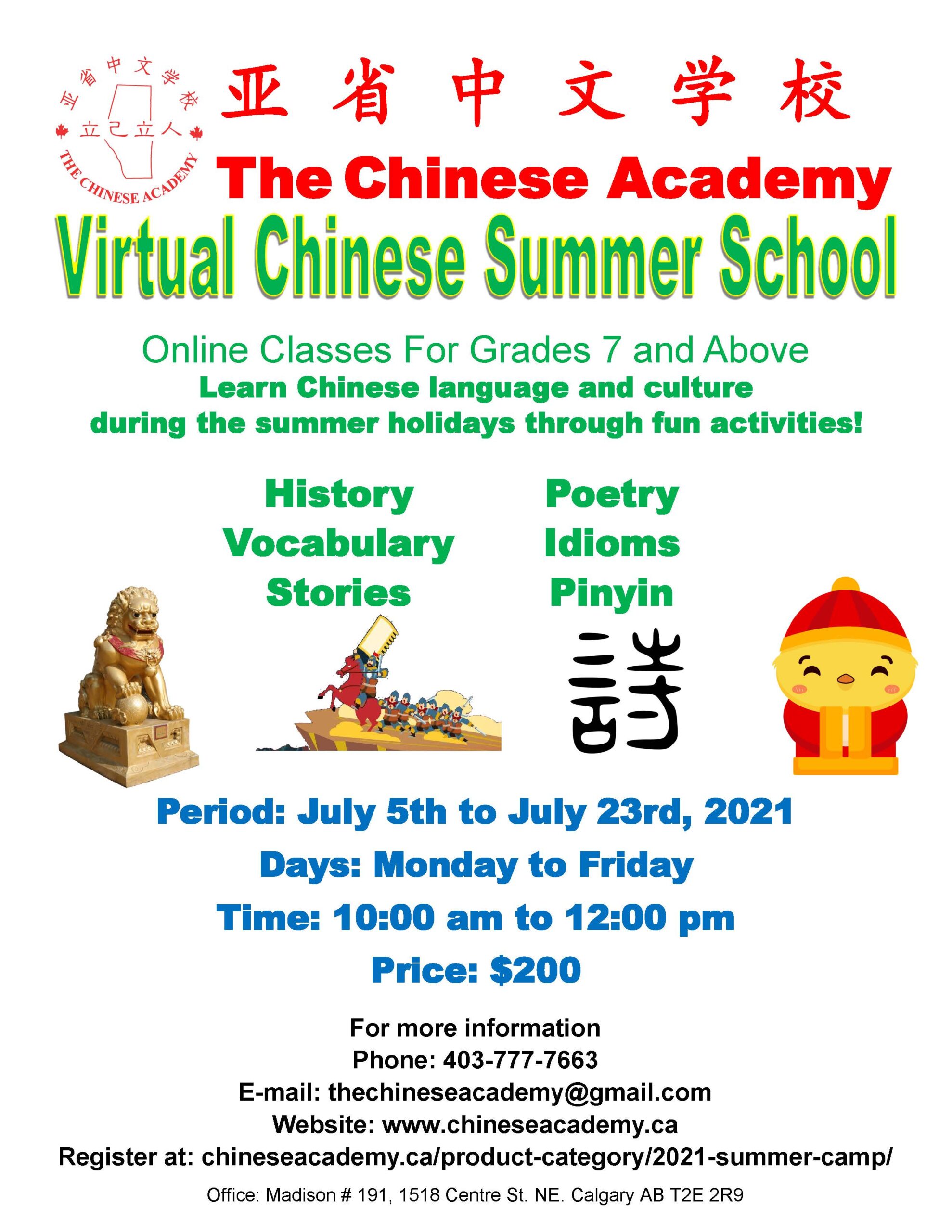 We are offering a special three-week online virtual summer camp in July 2021. These sessions will give the students an opportunity to practice their Chinese language skills and learn more about the Chinese language and culture.
Language: Mandarin
Dates: Mondays to Fridays, July 5 to July 23, 2021 (15 sessions in total)
Time: 10:00AM to 12:00PM
For additional information and to register, please see our fun summer camp/school posters. Click here.
Phase 2 Early Bird Registration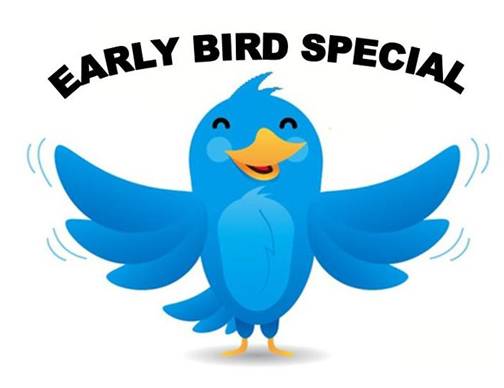 Just a reminder that the $20 discount for Early Bird Registration continues until Wednesday, June 30th, 2021. Please visit this link to register. Also, please take a look at all of the fun Option Classes The Chinese Academy offers as well.
Registering your child(ren) early is a tremendous help to TCA as we plan for ordering teaching and learning materials, hiring teachers, scheduling classes, and setting up classrooms. This process has begun.
2021-2022 School Year Commencement
While The Chinese Academy (TCA) is optimistic that in-person classes will be allowed for the 2021-2022 school year, we are unable to determine potential future restrictions. Please be aware that due to Alberta Health Services (AHS), Alberta Education and Calgary Board of Education (CBE) changing guidelines, TCA may be required to modify programs and classes to a virtual on-line platform. This could occur at any time and post registration.
Please contact The Chinese Academy office via email if you have any questions.
Thank you for your hard work and dedication during this special time. We look forward to seeing all our students on Saturday September 11th for the 2021-2022 school year.
Have a Restful, Healthy and Safe Summer!
The Chinese Academy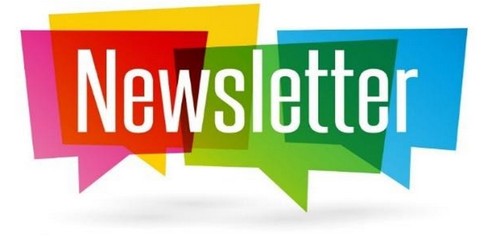 亚省中文学校在此向所有的家长致以诚挚的问候,祝您和您的家人身体健康!这是个特殊的在线学年,我校的老师及管理团队衷心地感谢您给予孩子学习中文和中国文化的全力帮助,感谢您帮助您的孩子顺利完成了本学年的中文课程学习,更要感谢您对我们学校工作的理解及支持。
请您仔细阅读本通讯简报,内容包括:
成绩报告单
2021 毕业典礼
奖项和奖学金
暑期中文班
第二阶段早注册优惠
2021-2022 学年开学日程
学生成绩报告单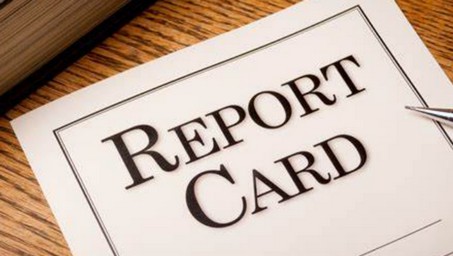 亚省中文学校今年是通过电子邮件将学生成绩报告单发送给所有家长。 您孩子的 2020-2021 学年学生成绩报告单已附在本家长通讯邮件中,请查看【附件】。
请注意:我们学校的学生人数众多,需要几天时间才能将所有成绩报告单发给我们的学生。如果您在6月21日之前还没有收到您孩子的成绩单,请通过电邮联系我们。
如果您有任何问题,也可电话联系学校校务处:403-777-7663。
2021毕业典礼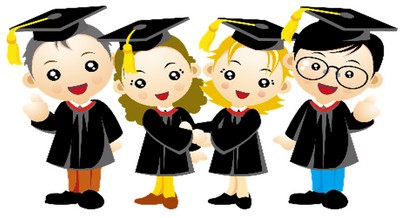 亚省中文学校第24届毕业典礼,也是首届网络毕业典礼已在6月5日隆重举行。 我校的家长、嘉宾和学生反应非常热烈。毕业是学生生涯的一个重要的里程碑,我们感谢所有预留时间参加毕业典礼的家长,您见证了孩子们的这个精彩时刻,感谢您的热情参与。
对于所有希望再观看庆祝毕业活动的学生和家长,我们将在下周把以下项目上传到学校网站。请点击观看:
校长寄语
网上毕业典礼完整版
十二年级、六年级、幼儿园高班毕业生代表致辞
国会议员 Michelle Rempel Garner, P.C. M.P.祝贺视频
特别嘉宾的祝贺信
各班的获奖名单
毕业典礼前奏视频
赞助嘉宾
学生表演和作品演示完整版
奖项、奖状及奖学金
今年,亚省中文学校通过赞助商的鼎力支持,令我们对学生的奖励政策得以实行。 我们很高兴能以此鼓励我校的优秀学生。
校务处将在学校网站上发布2020-2021学年的获奖名单。恭喜所有获奖的同学们! 这些奖状可以在八月底/九月初在维德广场办公室领取。
地址:Madison Unit 191, 1518 Centre Street NE Calgary T2E 2R9
十二年级TCA IB中文奖学金:IB毕业学生可以在7月份收到国际文凭组织(IBO)的IB中文成绩单后申请该奖学金。有关更多信息,请参阅我们的 IB 常见问题及解答:请单击此处。
幼儿园毕业回头注册奖学金:我校提供返回注册奖学金$50给幼儿园毕业学生,该奖学金将在2021-2022学年注册一年级中文课程后自动获得。如要继续注册成为我校一年级学生,请单击此处。
线上暑期中文班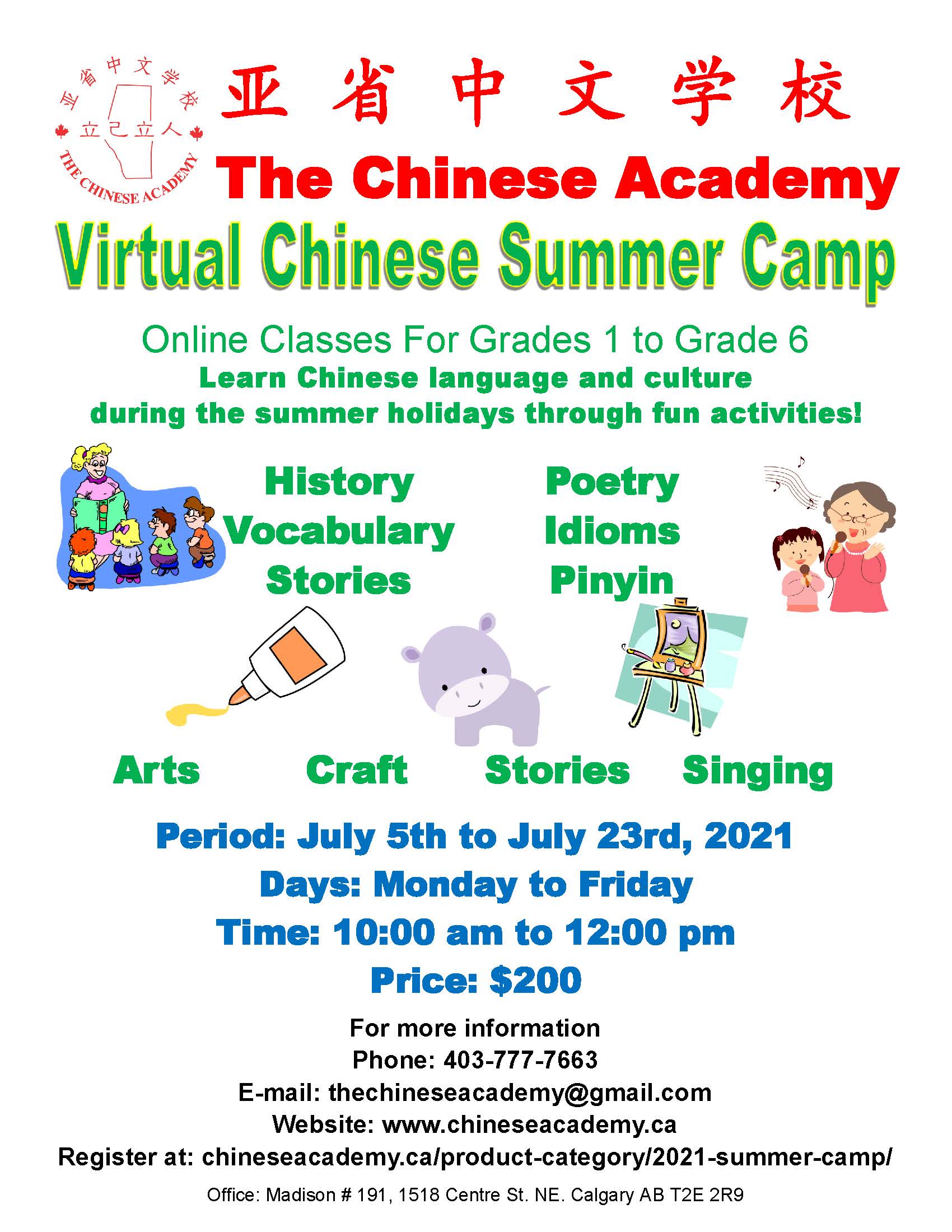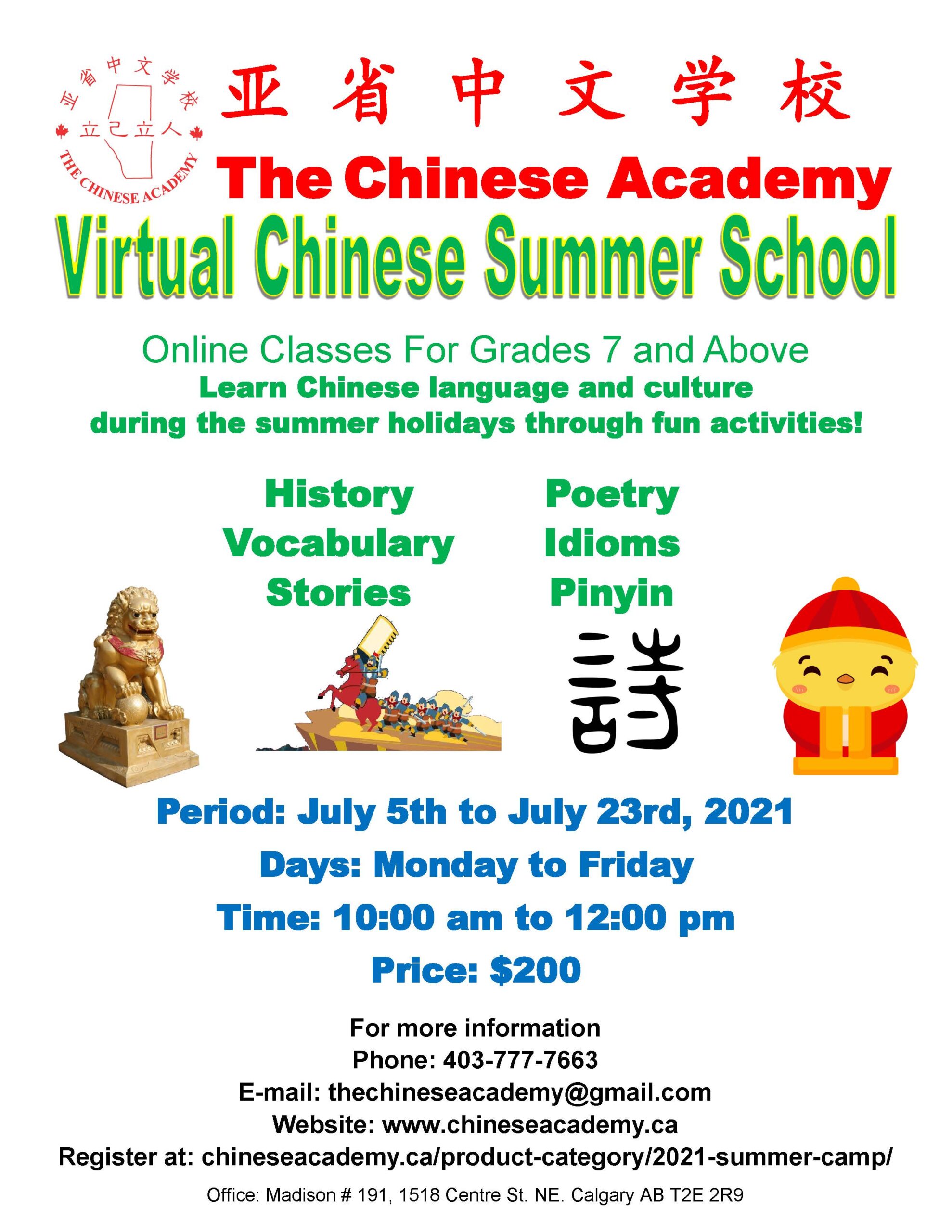 我们将在 2021 年 7 月提供为期三周的线上暑期中文班。这些课程将为学生提供学习中文和了解更多中华文化的机会,帮孩子们度过一个有趣又有意义的暑假。
语言:普通话
日期: 星期一至星期五, 2021年7月5日至7月23  (共15 次)
时间: 上午10:00 – 12:00
如需了解更多详情,请查看我们有趣的夏令营/学校海报:请点击这里。
第二阶段早注册优惠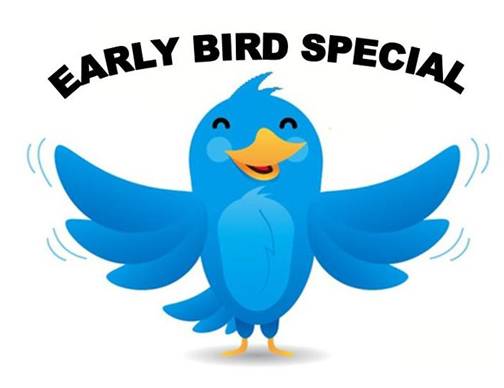 敬请您留意,我校的早注册$20折扣将截止至2021年6月30日星期三。请访问此链接注册:请点击此处。 另外,也请查看我校饶有趣味的兴趣班课程。
在我们快要计划订购教与学材料、聘请老师、设置课程和安排教室时,尽早为您的孩子注册会对我校提供极大的帮助。
2021-2022 学年开学日程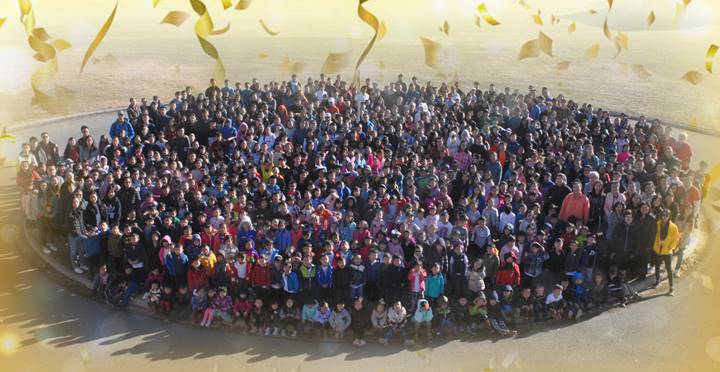 尽管亚省中文学校(TCA)乐观地认为2021-2022学年将允许面对面授课,但我们无法确定将来可能出现的限制。我校将严格遵循亚省卫生厅(AHS),亚省教育厅和卡尔加里教育局(CBE)最新规章,随时作出相应调整,按需要将面授课程改为网课。
如果您有任何问题,请通过电子邮件联系亚省中文学校校务处。
再次感谢您对我们学校工作的理解与支持。我们期待在9月11日星期六与2021-2022学年的所有学生见面!
祝愿您有一个健康快乐的夏天!
亚省中文学校