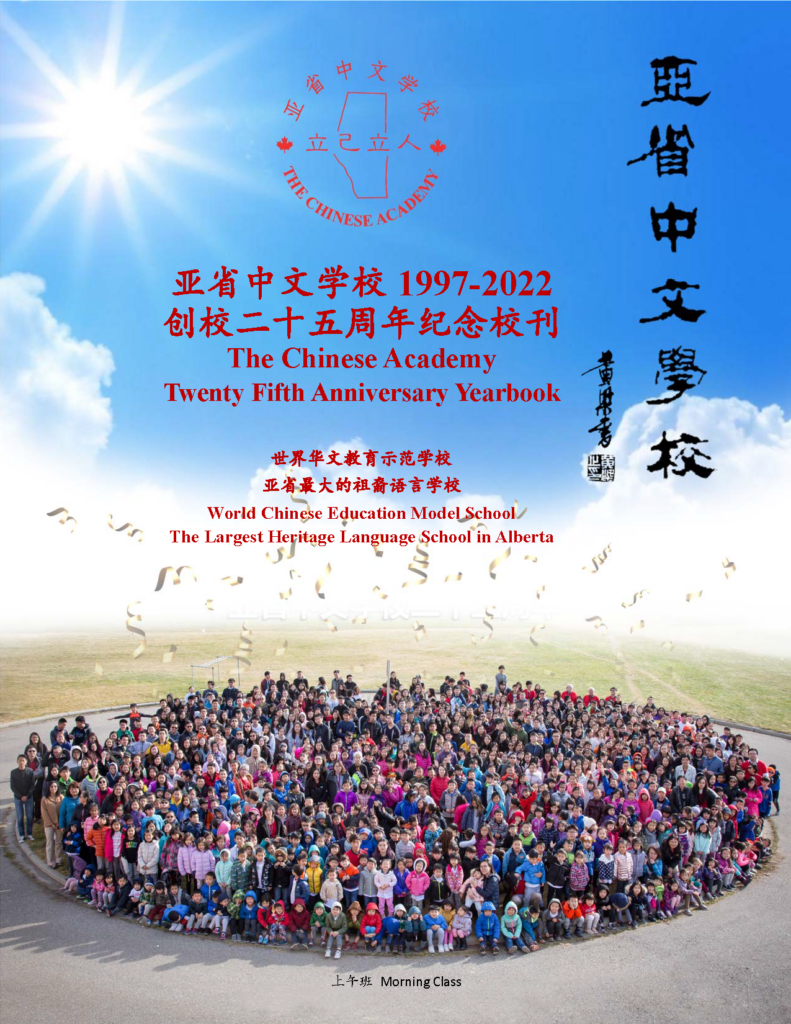 亚省中文学校今年迎来了一个重要的里程碑——创校25周年!25周年年鉴的电子版将于2022年春季提供给我校所有学生家庭。我们将通过电子邮件和学校网站与您分享。
我们很高兴地通知您,这本 25 周年纪念年鉴将提供全本彩色印刷。年鉴从社区领袖的贺信到学校大事记,从学生作品的精美图片到老师感言,内容丰富、精彩纷呈!
年鉴预购信息
价格:$30
预购截止日期:2022 年 3 月 11 日星期五
网站订购链接:https://chineseacademy.ca/product/yearbook/
领取:我校将在年鉴印刷版完成后通知家属前来维德广场办公室领取。
希望您考虑购买我校25 周年纪念年鉴作为贵子弟学习中文的珍贵纪念品。
如果您有任何问题,请随时发送电子邮件至 thechineseacademy@gmail.com。
亚省中文学校
The Chinese Academy is celebrating a big milestone this year – our 25th Anniversary! The digital copy of our 25th Anniversary Yearbook will be available to all our TCA families in the Spring of 2022. It will be shared with you through email and on our website.
We are very pleased to announce that our 25th Anniversary Yearbook will also be available for purchase in full colour hard copy. Our yearbook contains rich content, ranging from congratulatory letters from our community leaders to beautiful pictures of student work and much more!
Pre-order Information
Price: $30
Pre-order Deadline: Friday, March 11th, 2022
Website Order Link: https://chineseacademy.ca/product/yearbook/
Pick Up: TCA office will notify the families when the hard copy yearbooks have arrived. The yearbooks will be available for pick up at the Madison Office.
We hope you will consider purchasing our 25th Anniversary Yearbook as a keepsake for your family.
If you have any questions, please do not hesitate to email us at thechineseacademy@gmail.com.
The Chinese Academy