Queen Elizabeth II's Platinum Jubilee Medal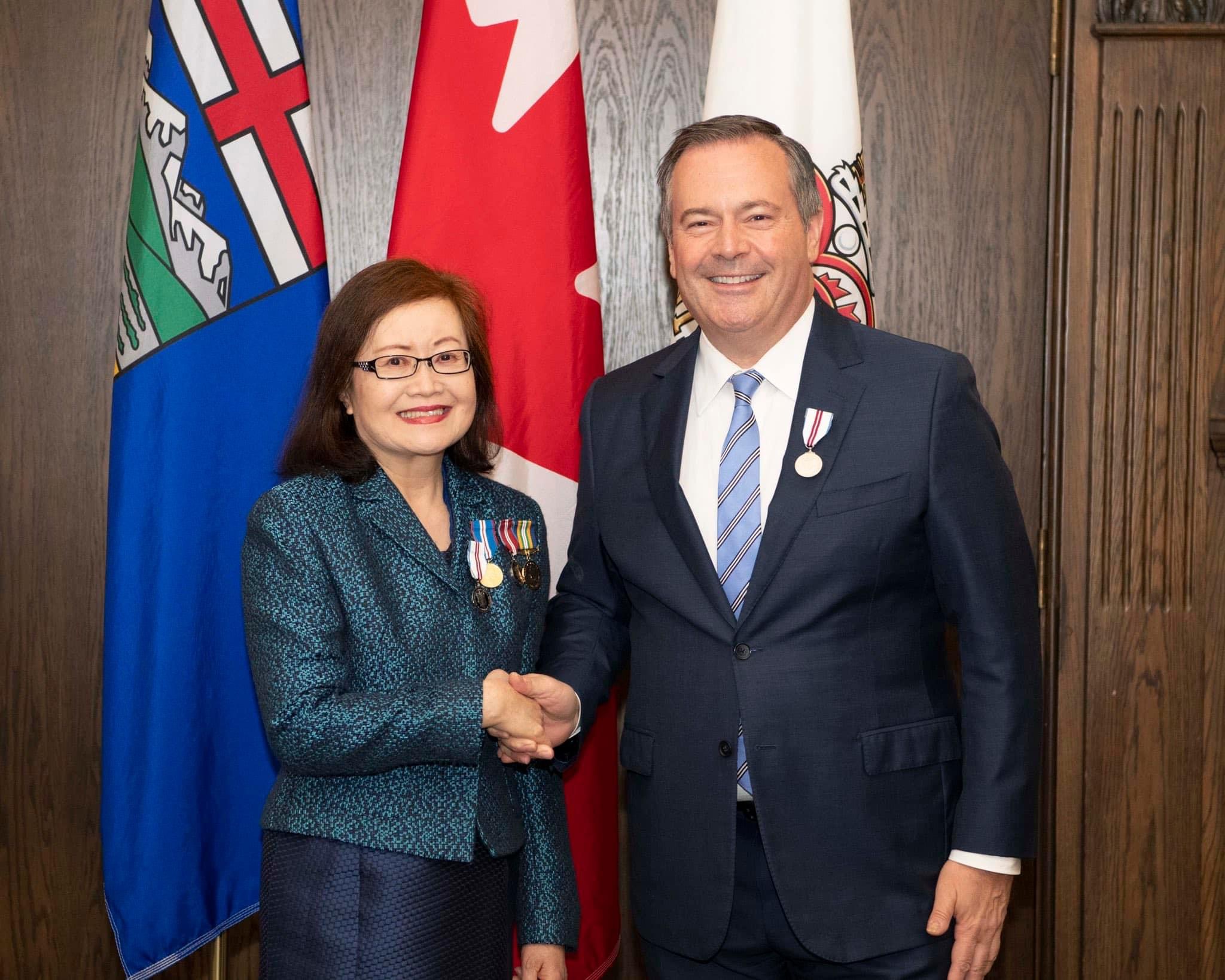 On October 6th, at the McDougal Centre in Calgary, a Medal presentation ceremony was held. Former Alberta Premier Jason Kenney honoured those Albertans who have made exemplary contributions to Alberta with the Queen Elizabeth II's Platinum Jubilee Medal. The Chinese Academy Chief Superintendent and Founding Principal Elaine Chan was amongst the recipients honoured in this special ceremony.
Queen Elizabeth II's Platinum Jubilee Medal was established to commemorate the 70th year of the reign of Her Majesty Queen Elizabeth. The Medal recognizes Her Majesty Queen Elizabeth and her lifelong service to Canada and the Canadians who, like Her Majesty Queen Elizabeth, are exemplary in their service to others. "The Alberta spirit of community & caring for others is alive and well thanks to countless folks like them," said former Alberta Premier Jason Kenney.
In 1997, Linda Raasveldt, who was at that time the principal of John G. Diefenbaker High School invited Mrs. Elaine Chan to set up a cooperation plan with the Calgary Board of Education which involved the creation of a private, not-for-profit Saturday Chinese school accredited by Alberta Education. The Chinese Academy (TCA) was established and offered Cantonese and Mandarin classes from Kindergarten to Grade 12 levels along with Chinese classes for students without a background in the Chinese language. These programs have now been extended to pre-school children and adults. In addition, TCA offers a variety of lifestyle programs promoting the Chinese heritage and culture. From badminton and table tennis to art and dance for all ages, there are many options from which to choose.
Mrs. Elaine Chan has been dedicated to the promotion of the Chinese language and culture for more than 30 years. In recognition of her commitment, she has been awarded with many awards including The Immigrant of Distinction Award, The Role Model Award of Asian Heritage Month, The Queen's Golden Jubilee Medal and Certificate, The Alberta Centennial Award and Certificate, The People's Republic of China's Overseas Outstanding Educator's Award, People's Choice Top 25 Canadian Immigrants Award, The Queen's Diamond Jubilee Medal, The Alberta Centennial Award, Recipient of the Canadian Flag 50th Anniversary, and The People's Republic of China's Overseas Lifetime Achievement Award.
Please join us in congratulating Chief Superintendent Elaine Chan receiving this well-deserved exceptional award.
---
2022英女皇伊丽莎白二世白金禧勋章颁奖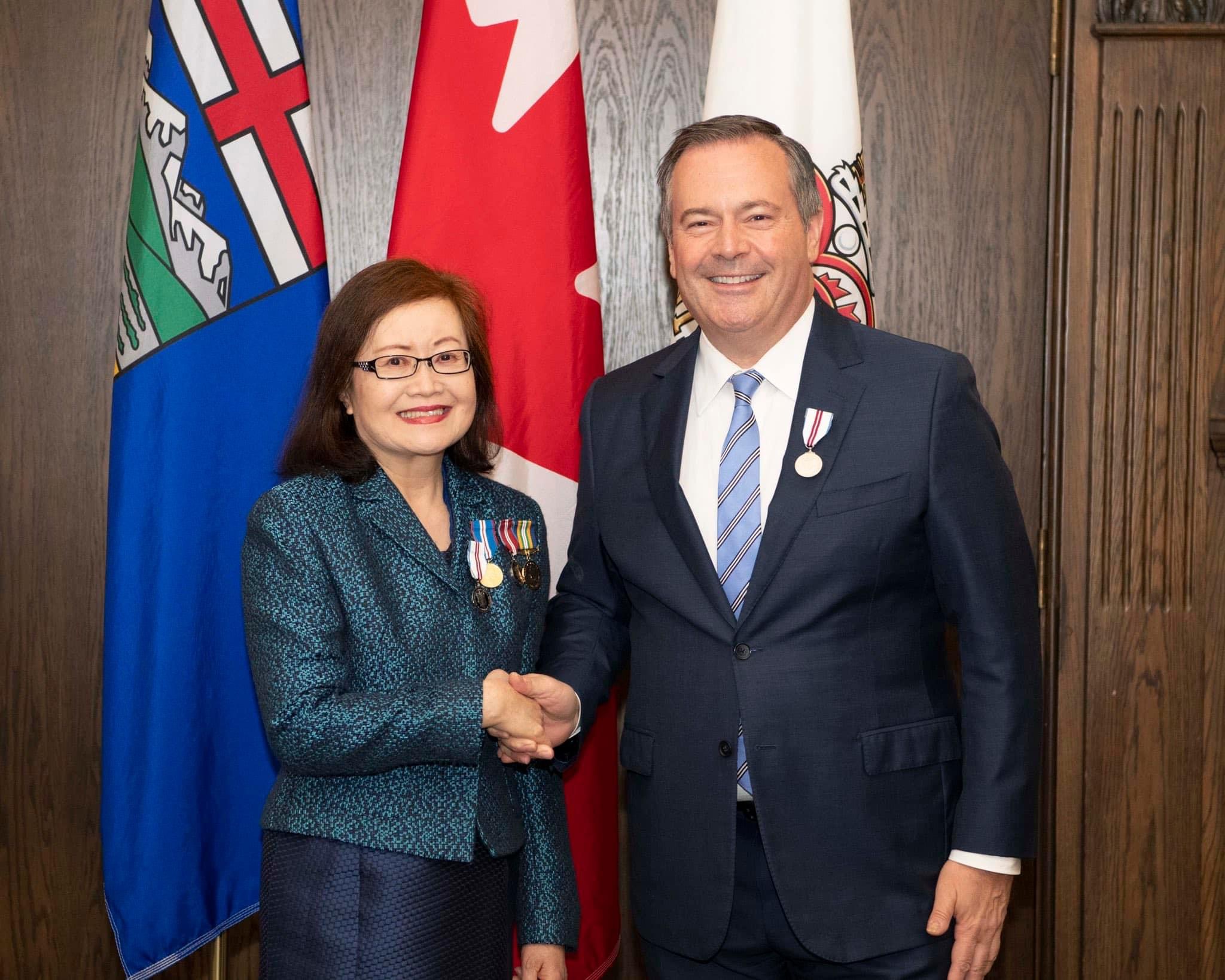 日前,在卡尔加里 McDougall Centre举行了隆重的颁奖典礼,亚省前省长肯尼(Jason Kenney)以伊丽莎白女皇铂金禧年勋章表彰为亚省做出非凡贡献的人士。亚省中文学校 创校校长及总校监杜绮玲女士荣获了此项殊荣。
亚省中文学校于1997年在John G. Diefenbaker高中原校长华莲达(Linda Raasveldt)倡导下邀请杜总校监创校;亚省中文学校不仅是亚省最大的祖裔语言学校,也是卡尔加里唯一一所与卡城公立教育局合作提供IB中文课程的学校。该校每年有学生接近2000人,为亚省的中文教育作出了卓越的贡献。
杜绮玲女士致力于推广华文教育,弘扬中华文化30余年,曾荣获多个奖项,包括"加拿大杰出移民奖"、"英女皇金禧纪念金章及奖状"、"阿尔伯塔省建省一百周年纪念奖"、"英女皇钻禧纪念奖章及奖状"、"中国优秀海外华文教师终身成就奖"等。
伊丽莎白女皇铂金禧勋章是为纪念英国女王陛下即位 70 周年而设立。该勋章旨在表彰女王和她对加拿大的终生服务,以及如女皇陛下一样在为社区及他人服务方面堪称楷模的加拿大居民。亚省前省长肯尼说:"感谢他们,也正因为有像他们这样的人,亚省社区精神及关爱他人的精神得以延续。"